Have you noticed the new "trend" of famous new mom's flaunting their flat stomachs just weeks and months after giving birth? iVillage calls attention to a gorgeous Kourtney Kardashian in a red bikini on the cover of Life & Style Weekly, with not a stretch mark or love handle in sight (although the post-pregnancy bosom is most definitely there)!
Before that there was bikini-clad Kendra Wilkinson, who graced the cover of OK! in February, just eight weeks after giving birth to her son. And last May, Elisabeth Hasselbeck posed for the cover of  Fitness, with baby Taylor only 6 months old. And famous octo-mom Nadya Suleman posed for the cover of Star in January one year after giving birth to her crew.
Pregnancy and weight loss are two topics that are sure to sell magazines, but as iVillage puts it, "There are so many things sadistically wrong with our post-baby celebrity body obsession." You can probably figure out what the problems are yourself, but here's what iVillage has to say about it:
The magazines are misleading
Kardashian's cover reads "How I lost 33 pounds! My super-fast weight loss, flat stomach in days, new secret slim-down shake." Just whip up your own slim-down shake, curl up with their magazine, and your pregnancy weight will disappear too! (We won't mention the fact that you don't have a private trainer, personal nutritionist, full-time nanny or cosmetic surgeon like she does.)
Some celebrity moms are lying too…
Octomom's bikini cover reads, "No nips, no tucks, no lipo." While it is technically possible that she dropped 150-ish pounds without surgery, you can't get rid of that much stretched out skin with exercise alone.
Photoshop works miracles!
We all know that magazines retouch all their photos. Bye-bye stretch marks and love handles! Take a look at this altered cover image of Kardashian for evidence of how far digital "shaping" goes. Thankfully, she objected to it!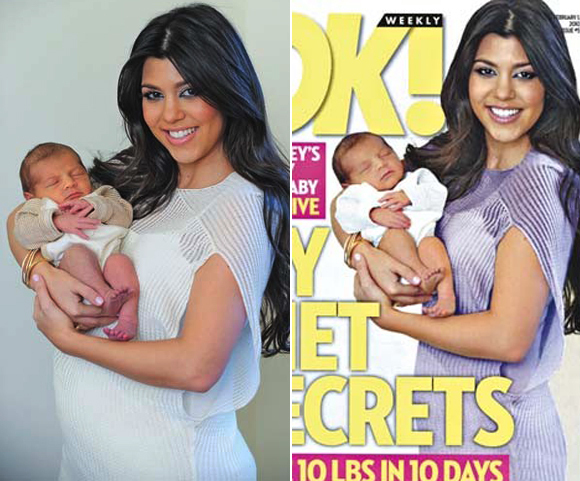 Not the role models we need!
You know what your priority should be after you have a baby? Your baby. Not weight loss, calorie intake, or how you look in a bikini.  The newborn period is so short, and before you know it this sweet, tiny little creature will be… well, not newborns anymore. Take time to bond with your baby and take care of yourself, too. That means eating hearty, healthy meals, getting enough sleep, and ignoring the pressure to looking perfect again.
Now here's a photo we can all be comfortable with… Halle Berry, post baby, out shopping as happy as can be (note: not exercising!) and feeling comfortable in her own skin. She looks great, and that baby belly– well that's pretty much what any normal postpartum mom looks like! It's an old picture, but I'm liking it! ( photo source)