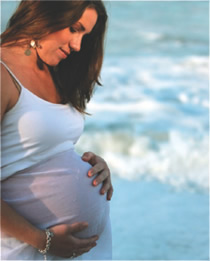 It's infamously known as morning sickness, but does this condition really mean that you are ill? Emax Health says that according to recent studies reported in The New York Times and Web MD, pregnant moms can stop worrying about morning sickness, the most well-known pregnancy symptom.
The Times study concluded that morning sickness is not an indication of an unhealthy pregnancy, and the WebMD study concluded that the absence of morning sickness is no cause for alarm, either. The nausea experienced by upwards of 85 percent of pregnant women is not a symptom of any irregularity, and those who don't experience it don't show any increased incidence of abnormalities, either.
New remedies aimed at relieving morning sickness completely.
Morning sickness affects 70-85% of women, and in severe cases can lead to hospitalization. That's why it's best to control morning sickness from the start. Unfortunately, many women think their options are limited to the crackers and ginger ale routine… or prescription drugs. But now, there may be an effective, natural alternative to treat their morning sickness.
It's called "Morning Sickness Magic," and it's developed by Roshan Kaderali, RN, in cooperation with an FDA compliant laboratory. Kaderali has practiced as an obstetrical nurse, midwife, childbirth educator and a doula, and has worked in the medical field more than 40 years. She's also the founder and CEO of MOM Enterprises and creator of Baby's Bliss and Mommy's Bliss (www.mommysbliss.com)a line of all-natural products created exclusively for babies and expectant mothers. Kaderali's international upbringing and education led her to discover natural remedies that are proven staples in households around the world.
"The issues expectant moms face are universal," says Kaderali. "They all want to do what's best for their babies. With morning sickness, many women think they have to just tough it out because they don't want to take a prescription drug. But toughing it out isn't good for mom or baby either. Women who are pregnant need folic acid and other essential nutrients. If they're throwing up or not eating because of morning sickness, that impacts everyone's health. "
From her decades of experience working with pregnant women, Kaderali already knew of various natural remedies that would tame the symptoms of morning sickness. But she couldn't find them in a combined, easy-to-take formulation.
"Vitamin B6 and ginger have both been recommended individually for morning sickness," says Kaderali. "But they actually work much better together. That's because ginger, when taken by itself, can take the edge off of nausea in a short period of time, but it's not long-lasting. On the other hand, B6 levels must be built up and sustained in the bloodstream to be effective."
Up until recently, obstetricians have had limited for treating morning sickness. That's why the natural formulation in "Morning Sickness Magic" has been such a hit among expectant moms and their doctors, according to Emax Health.
It's the first formula to combine B6, ginger, and other anti-nausea ingredients. Becuase it is safe for mothers and their unborn babies, obstetricians across the country are recommending it and distributing it to their patients. "It's actually been the best selling morning sickness formula in the U.S. for the past 5 years," says Kaderali. "We've received tons of emails from expectant mothers who are so relieved that their morning sickness has disappeared or reduced so that they can function in their daily lives."
It sounds too good to be true! Have you or anyone you know tried "Morning Sickness Magic"? Did it help you?
Preparing to welcome that little bundle of joy? Shop PRETTY BABY GIFTS for baby keepsakes, adorable baby shower favors,  gifts for new parents, and delightful baby albums and frames!