It's never too early to start thinking about the holidays! Whether you've got a family Thanksgiving feast on the calendar, a holiday office party to get glammed up for, or a communal Hanukkah party, we know you want to look your best.  A super holiday dress is in the cards for you, and here are some tips on finding it!
Versatility: Get more bang for your buck when you buy something you can dress up or down, and wear again a few more times before baby arrives. This little black dress from the Gap ($59.50) can be dressed up with heels and a great necklace, or dressed down with flats and a colorful scarf.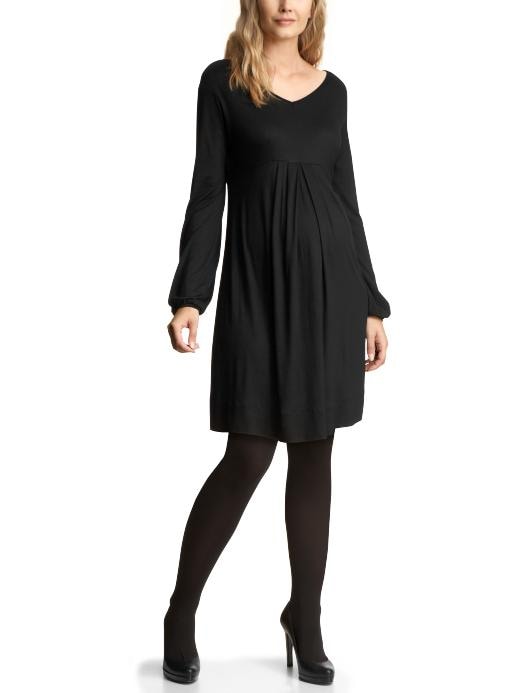 Flatter your bump: Go for a streamlined look that acknowledges your curves without exaggerating them. There's no need to squeeze your nine-month belly into a sequined mini-dress just because you can. Instead, opt for something soft, comfortable, and graceful, like this wine colored dress from Motherhood.
Get wild: Yes, you are about to become a mother, but that doesn't mean you need to sit in the corner next to Granny all evening.  Set your wild side free for just one evening with this leopard print shirtdress that shows off lots of leg ($170 from Due Maternity)!
Mix-n-match: If dresses aren't your thing, you can get a dressy top and pair it with black satin or velvet pants.
Long and glamorous: If it's a black-tie affair, a strapless, floor-length dress will take their breath away. This silky jersey dress from Isabella Oliver (it comes in red, too, for the truly daring!) is a winner!
Accessorize: Even if you can't find the perfect dress, a simple black number can be glamorized by adding statement pieces you love. A pair of sweeping chandelier earrings, a bright scarf, or some awesome heels will do the trick!