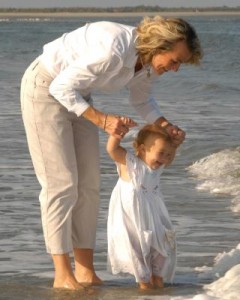 His Boys Can Swim! posed the following question on Twitter: "What's the best advice you would offer to a 1st time mom?"  She got some great advice and shares the wisdom on her blog for all the other first-time mom's out there!
It's a long list, so I picked my fifteen favorites:
@NightNannies – Take each day at a time and enjoy your baby as it goes very quickly.
@jules23 – Do your own thing. EVERYONE will have an opinion on what you should do.
@wellbalancedpup – Get a good babysitter and have time doing things with your partner and dont feel guilty about it.
@sarabanut – Take ANYONE up on their offer to help after you have the baby.
@Elouise82 – Best advice? Don't listen to other mothers' advice! They will all drive you insane if you let them.
@jerseybites – Relax. We make our first borns so neurotic by being so neurotic. Don't make everything have to be a lesson. Just enjoy.
@WayMoreHomemade – From a control freak… realize that it's not all under your control.
@sueannesjewelry – Trust your own instincts when it comes to the mental and physical health of your child. Nobody knows them like mom.
@tygerbaby – My sister had antibacterial everything…I'm pretty sure there were no living microbes anywhere in the house but…my nephew gets sicker more often than his younger sister, and the illnesses hit hard.
@MomPath – Best advice 4 1st time mom? Laugh more & let the unimportant stuff slide. It's an amazing adventure.
@cheeriokeeper – Always pack 2-3 outfits in the diaper bag. There's always bound to be a blow-out when you're least expecting it.
@latarahamying – Sleep when the baby sleeps and don't try to be superwoman – it is impossible
@birthinbinsi – Listen to advice, but trust your instincts. You know what is right for you and your baby.
@SideKickBoy – If only my wife believed me when I told her how cute she is all pregnant.
…and I'll add my own:
15. Use the internet… it's a great resource (and comfort) for all your pregnancy and baby related questions!
Visit His Boys Can Swim! to see the complete list!
Image from preferredinsurancesvs