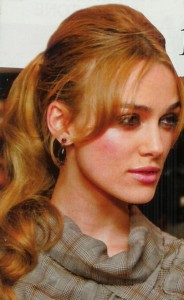 One of the main beauty issues facing pregnant women is whether or not to continue coloring their hair. Before you set out for the salon, talk to your obstetrician about any treatment you might be planning. Parents.com says that the Food and Drug Administration (FDA) hasn't done any conclusive studies on the effects of hair color chemicals on a developing fetus, but it's best to play it safe.
Doug MacIntosh, colorist at Minardi Salon in New York City, suggests that once you've decided to continue coloring your hair throughout pregnancy and breastfeeding, you have an in-depth consultation with a colorist about what the best option is for you.
Before you color, heed these tips from Parents.com:
1. Wait out the first trimester. Most doctors and colorists recommend not doing chemical processes during the first three months of pregnancy for both safety reasons and your potential sensitivity to the chemical fumes. Also, hair may change during pregnancy. Some women get more gray hair, others find that their hair texture changes. After the first trimester you'll have a better idea what you're dealing with.
2. Avoid processes that involve scalp contact. All the experts agree that any color process should avoid touching the skin and scalp to prevent absorption of chemicals into the bloodstream. This means no single-process color, which is harsher and comes into contact with hair roots.
3. Try temporary color. Here's the ultimate no-commitment option — a hair mascara wand or a hair pencil. The results only last until your next shampoo, and they're nontoxic.
4. Opt for highlights. This process involves painting sections of the hair with permanent color (which contains peroxide and ammonia) but not allowing the solution to touch the scalp or skin.
5. Don't be duped by vegetable dye. There's no such thing as vegetable dye that's safe against the scalp during pregnancy.
6. Pare down your hair color expectations. Coming into the salon every four weeks for root touch-ups or a single process just isn't realistic. Talk with your stylist about taking your hair maintenance down a notch.

More maternity hair care tips for easy, pretty styling, from Parents.com:
Hair can be time-consuming and sometimes an unnecessary source of anxiety. During pregnancy, you may be looking for a low-maintenance style that looks good and is easy to take care of, without chemicals, of course. Get some advice from the pros at Bumble and Bumble in New York City on the best cuts and styles for expectant and new moms.
Don't go drastic. You may be tempted to exercise control over some part of your life by going for a totally new look. Bumble and Bumble stylist Nikki An notes that many pregnant women come in thinking that cutting of their hair will give them new, more manageable look. But An recommends that they keep their locks longer, softer, and never make a drastic change — as they'll most likely regret it later. Shorter hair doesn't always mean that it will be easy or less time-consuming to style. It's a good idea to stay within a range of length and shape that you're already comfortable with.
Consider your new face shape. Many women find that their faces get fuller during pregnancy and should consider that when getting a new cut. Nikki explains, "Wearing hair straight, at shoulder length or a little longer, can help create the illusion of a slender face." Stylist Barry suggests avoiding blunt bangs and lots of layers, which only accentuate a heavier face.
Conquering curls. If your hair isn't naturally straight and you have the time and energy for heat styling, go for it. Prep damp hair by combing through a dollop of straightening balm. Then blow dry with a round, natural-bristle brush, being careful to point the nozzle down the hair shaft, to ensure a smooth finish. If you prefer to keep your curls intact, just run a light-hold gel through towel-dried hair to keep frizzies in check.
Go low-maintenance. Once you've given birth you probably won't have much free time, let alone 15 minutes to wash your hair and primp. This is reason enough to get a cut that you don't have to style every day. Few women have the time to come in for regular cuts while toting a baby, so stylist Shirley Ching recommends longer styles which can be pulled back in a chic ponytail. This is especially true when your baby is grabbing anything she can get her hands on. Slick hair back into a low ponytail with a leather cord or ribbon wrapped around the elastic for an updated look.
Other timesaving tips:
*Sprinkle a dry shampoo or hair powder on roots in between washings.
*Look for two-in-one styling aids.
*Skip the blow dryer.
*Braid wet hair before you go to bed. Take it out in the morning and you'll have sexy waves.
*Get some pretty barrettes or ponytail holders for a quick French twist or ponytail.
The ponytail featured is from Hairstyles 53. Check out Hairstyles 53 for more hot hairsyles.