One of the most fun things about preparing for baby is, of course, decorating the nursery… Especially if you know that a little girl is on the way! Although your first thoughts might be quilted in various shades of pink, with plenty of bows and lace, there are actually lots of creative options when it comes to choosing colors and themes for your little princess's room!
From Hawaiian beaches to garden tea parties, from dragons and unicorns to cowgirls and circuses, your choices are practically unlimited!  Unique Baby Gear has lots of creative ideas under "Girl Room Themes," like this darling Beatrix Potter decor: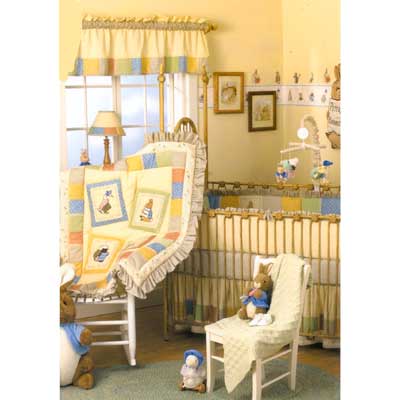 I also like this carousel horse theme:
For a modern, sophisticated look that is still pretty, you can decorate your nursery in pink and brown. Here are a few examples of how it can be done:




While themes like those above are colorful and exciting, some new parents want to keep the nursery decor simple. "For a baby and for new parents, serenity is key," says designer David Netto on HGTV.com. See his 11 Ways to Create a Modern Nursery for tips on creating a peaceful sanctuary for your little one.  He suggests using subdued colors for the walls, floor and major furniture pieces, and adding bright accents with bedding, wall art, rugs, window coverings and accessories. He also advocates gender-neutral design and adaptable furniture (cribs that turn into toddler beds, basinettes that transform into toy baskets), streamlined peices with built-in storage and double-duty items (like a dresser wtih a chanaging table on top). He also advises keeping your child in mind: "Most of the furniture in the nursery should be scaled down for your child and low to the floor," David Netto adds. "And hang pictures at her eye level–not yours.
ButterflyCraze.com has some pretty accents that will add interest to your nursery.  Hanging angels, giant daisies, and fluttering butterflies will turn her room into a fairy-tale land.
Browsing wall art for your new arrival is also fun! DistinctiveNurseries.com has lots of posters, prints, and wall hangings in every style and color. The cool thing about them is, if the price tag is too hefty you can get handy and re-create the same look yourself! Here are some that I like:
Well, this post could go on and on, but I'll leave the rest of the Googling to you! Window dressings, cribs and bassinets, murals, rockers… Let the decorating begin!