Maternity designers are gearing up for Spring, and popping out all sorts of new trends. The one that seems to be getting the most (negative) attention is the one-piece maternity jumpsuit.  Granted, it may be comfortable (nothing pulling around your midsection) but even the most beautiful non-pregnant gal will have a hard time looking good in a jumpsuit. And, as My hormones made me do it points out, Pregnant Girl who has to pee every 5 seconds has no time for a jumpsuit!
| | |
| --- | --- |
| Ripe Maternity 'Deluxe' Satin Dress at Nordstrom | |
So what should you be looking for?  Here are some Spring 2010 fashion trends for the mom-to-be that won't have you shuddering in horror!
Sugar Candy Shades: Silky, floating fabrics in soft, feminine colors will definitely breath a sense of spring-time into your wardrobe. Bring on the frills, ruffles, and pastels!
Candy Floss style via Made for Mums
Be Knotty! Knots, drapes, pleats, and other fun shapes reigned on the catwalks, says Made for Mums.
Drop-Waist Peasant Top by Old Navy; Tie Knot dress by Isabella Oliver
Cool T's: When the weather starts to heat up, you'll want some fun, comfy T-shirts to brighten up your outfit. The bright colors, draping, and graphics on these T's keeps them from being boring!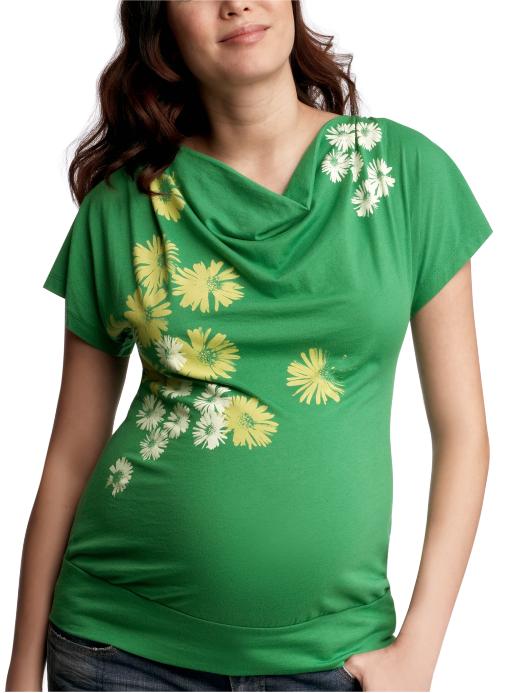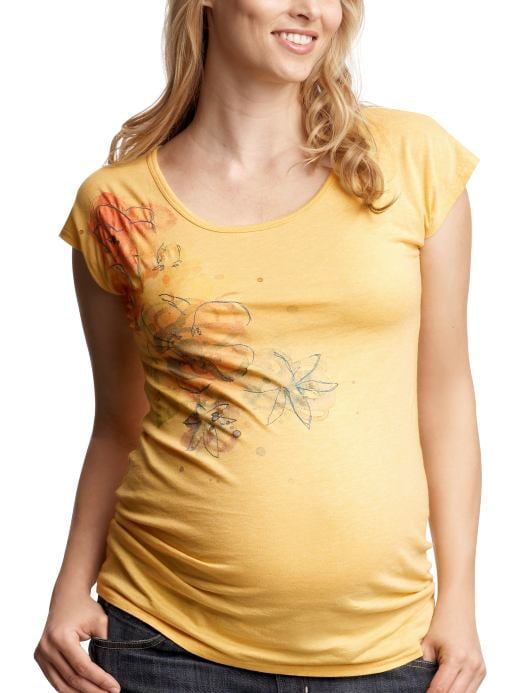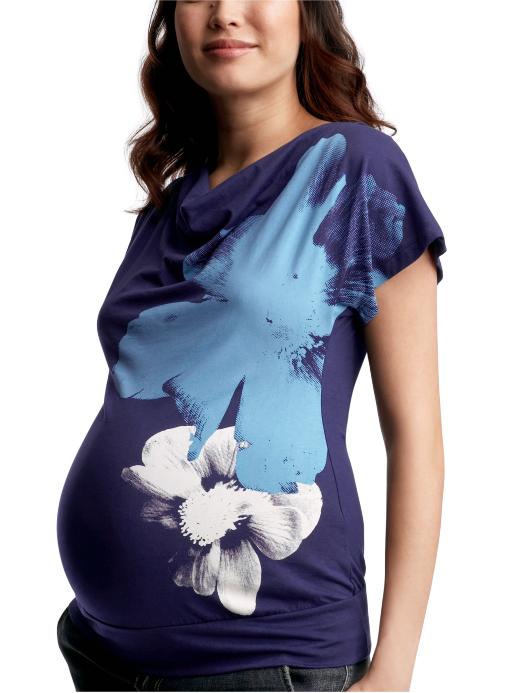 T-shirts from the Gap
Eye-popping Prints: Dress your bump in flashy florals and bright geometric designs.  Let your wardrobe energize you this spring season!
Short Shorts (and not-so-short shorts): Your belly  may have ballooned, but you can still show off your leggy legs! If you're brave enough, get yourself some edgy cuffed shorts. If you're more conservative, some knee-length shorts should do the trick!
If you can't wear short shorts because you feel the need to wear compression stockings for dvt or just aren't that thrilled with your ankles, then maybe jeans are a better choice.
Denim Jeans: More of a staple than a trend, jeans are always a great choice and look fabulous with just about anything. Now you've got lots of styles and colors to choose from, including stretch, skinny, bootleg, and flare.