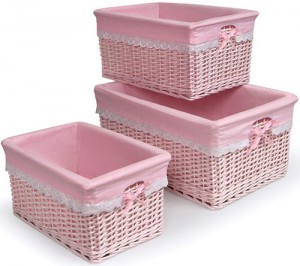 The goal of being organized is having a place where everything belongs, so it's important to create adequate storage place. Babies may be small, but they need a lot of stuff! If you're baby's room is poorly organized, you will soon find yourself with lots of clutter and no idea where that tube of diaper cream disappeared to! Take some time to look around baby's room and assess the space you have to work with.
Closet: Since baby clothes are much smaller than adult clothes, you can lower the closet rod to be just a few feet from the floor, says Rebecca Johnson, owner of Decorating Your Baby Nursery. This will give you more space above the closet rod to install shelving for other items. Or, you can leave the closet rod where it is and install shelves or drawers beneath the rod. A good closet organizer is also worth looking into if you want to make use of every square inch.  Another handy organizer is a shoe rack that hangs inside the closet. You can use it for shoes, but also to easily organize things like socks, hats, bibs, mittens, hairbrushes, barrettes, and headbands. (Image from closet-organization-systems.com)
Changing table: Use the space below it to store items such as diapers, wipes, creams, and changing pads. There might be enough drawer space for baby clothes as well. You can also put some shelves above the changing table to display books, toys, framed pictures, and pretty boxes where you can store additional odds and ends.
Dresser: If you have enough space, a dresser is excellent for storing clothes, sheets, towels, and blankets. If your room is small, find a dresser that doubles as a changing table.  Dressers with removable changing tables on top are like two pieces of furniture in one: you can continue using it even after baby has outgrown the need for a changing table. You can also consider dressers with a hutch on top, which provides additional space to display knick-knacks or other items. A hutch also works instead of buying a separate bookcase.
Crib: This is a great place to pick up some additional storage space. Use wicker baskets, boxes, or plastic storage containers to store items such as crib sheets, blankets, and clothes that baby has yet to grow into. Some cribs come with pull-out drawers underneath.  (Crib pictured from ATD American.com)
Wall shelves and bookcases: These are great for bringing additional storage space to the room, and to display baby's books, toys, and stuffed animals. One tall bookcase works great if you have limited space in your baby nursery. If you have more area to play with, a couple shorter bookcases are nice, because they make it easier for your baby to reach their things when he gets bigger.
Toy box: You'll be surprised at how quickly your baby's toy collection will grow. To avoid clutter, a toy box gives you one place to keep all the toys and their various parts. A toy bench is a nice way to go, which gives your baby a place to sit when he gets older, and the toys go inside. (Toy box pictured availble from clutterfreekids.com)
More helpful hints:
-If you have baskets or boxes for storage, make sure you keep them labled.
-Furniture such as bookshelves and dressers should be anchored to the wall. This prevents a potential hazard when the baby starts crawling and climbing (or if you live in earthquake-prone areas).
–A glider or rocking chair is wonderful if space allows. Having a place to sit in your baby's room gives you a place to sit while you feed or bond with your baby. (Glider pictured availible at Amazon.com)
– A clothes hamper is helpful if you want to avoid numerous trips to the laundry room everyday. Babies dirty numerous outfits a day!
-A diaper disposal is also handy, although not necessary. Place it near the changing table for easy access.
–A lamp may be a good thing to have, especially if you want some dim lighting for pre-bedtime activities. Never use a floor lamp , which your baby can easily pull over. You should place the lamp high up on a dresser or bookcase, out of baby's reach. As an added precaution, fluorescent light bulbs stay much cooler to the touch than regular bulbs.
-Put stuffed animals in a hammock and hang it in a corner (maybe over the baby's crib or bed) so they're out of the way but within reach. You could also get a big basket to keep dolls and stuffed toys in. (Image from About.com)
-A row of hooks on the wall or door is useful for hanging coats, sweaters, and diaper bags.
-For the super organizer, consider buying or creating hanging dividers for the closet, and drawer organizers for the dresser drawers.
-If you're on a budget, check out garage sales and thrift shops (like Goodwill) for used furniture. You will pay a fraction of what you would spend by buying new furniture. You can paint or refinish furniture to match the rest of the bedroom.