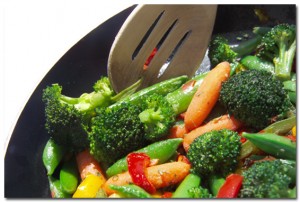 Don't diet; learn to cook.  That's the philosphy of Dr. Ricciotti, an OB/GYN at Beth Israel Hospital in Boston, Mass., and author of The Pregnancy Cookbook (W. W. Norton & Company, 2002). She explains in an article called "The Pregnancy Panty" that the greatest thing about pregnancy is it's a time when women are willing to make important lifestyle changes.
Nourishing meals are just at your fingertips… but you have to be prepared to cook in a healthier way than you might have been doing in the past.  If you want to undestand more about nutrition, equip your kitchen, and get organized, here are some tips for you from Pregnancy Today!
Getting Started
Buy yourself some healthy-style cookbooks.
Use the internet to search for healthy recipes, and cooking techniques and tips.
Pay more attention to food labels. Pre-packaged snack foods are often loaded with calories and unhealthy hydrogenated oils.
Browse around the organic food sections.
Think about portion control.  Often, foods are packaged to look like one portion, when they actually contain two or more.
Try these healthy substitudes:
Brown rice instead of white rice.
Olive oil in place of vegetable oils.
Whole-wheat bread in place of white bread.
Whole-grain cereals instead of white cereals.
Cocoa made with skim milk and lightly sugared instead of artificially-sweetened cocoa mix.
Sparkling water with a squeeze or two of fresh fruit juice rather than diet soda.
A cup of dry cereal made from whole grains instead of a granola bar.
Regular yogurt mixed with fresh fruit in place of artificially-sweetened yogurt.
Some staples you may want to keep on hand when fixing healthy meals:
Canned salmon, tuna and anchovies
Frozen vegetables
Whole wheat flour
Yellow cornmeal
Barley
Dried beans
Lentils
Brown rice
Canned tomatoes
Low-sodium chicken broth
Egg substitute
Whole-wheat tortillas
Tofu
Yogurt (without artificial sweeteners)
Frozen chicken breast
Frozen fish fillet
Instead of pre-packaged snacks, try:
Fresh fruits (apples, oranges, melons, grapes)
Fresh vegetables (baby carrots, pepper slices, cherry tomatoes)
String cheese
Hummus as a dip or spread
Nuts
Canned soups (low sodium preferred)
Quick, healthy meal ideas:
Whip up some scrambled eggs (or use a cup of egg substitute and cook like scrambled eggs) adding some fresh vegetables (leftovers work great, too!). Serve with whole-wheat toast and yogurt with fruit.
Add a cup of frozen vegetables to canned soup. Heat thoroughly and serve with whole-wheat crackers and fruit.
Roll leftover chicken or turkey in a whole-wheat wrap with lettuce and tomato.
Boil a pot of water, add veges (carrots, potatoes, sweet potatoes, squash) and make a tasty vegetable soup.  You can put it in the blender for a pureed soup!
Whole wheat pasta or cous cous topped with sauteed veges.
Oatmeal with cinnamon and skim milk, plus a fruit salad.
Salads topped with: corn, heart of palm, avocado, olives, tuna, salmon, beans, nuts, feta cheese.
For something a little more advanced, try these recipes from The Pregnancy Cookbook:
westchesterbootcamp