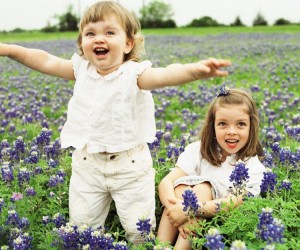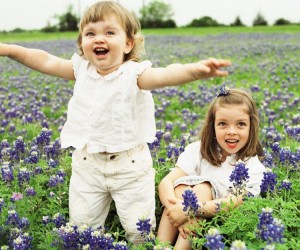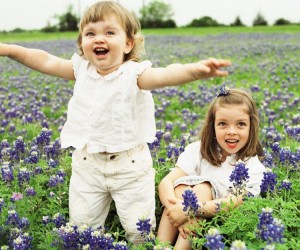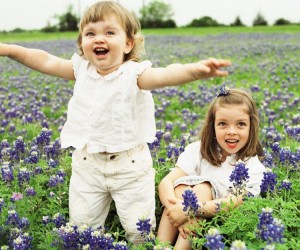 It may be due to the economic slump, but moms and dads around America are slowing down and learning to take it easy when it comes to their kids schedules.  Money is a bit tight for many families, and instead of going to amusement parks, eating out, and taking flute lessons, more kids are exploring their backyards, haivng tea parties, and planning play dates with friends.
A few years ago, a good parent was one that filled her kids' free time with enriching activities, shuttling them between school, ballet, soccer practice, and music appreciation class.  "But these days she's more likely to be applauded for taking a slower, more laid-back approach to parenting," explains The Mommy Files. "Yes, it's actually cool to shun Suzuki method violin classes, to laze around the house in PJs on weekends, and to tell the teacher that she's giving your child too much homework. We seem to be in the midst of a new parenting movement, which the mommy bloggers are calling "slow parenting."
The idea of downtime is gaining popularity.  Like all movements, this one had a beginning, and a man named Carl Honoré is "the father of the slow parenting movement." He's the author of the best-selling book In Praise of Slowness: How A Worldwide Movement Is Challenging the Cult of Speed, and his more recent Under Pressure: Rescuing our Children from the Culture of Hyper-Parenting. The Mommy Files tells the story behind the movement:
Honoré got the idea for Under Pressure at an evening event at his 7-year-old son's school. A teacher told him his son was a gifted artist. That night he trawled Google, hunting down art courses and tutors to nurture his son's gift. Visions of raising the next Picasso swam through Honoré's head–until he approached his son the next morning.

"'Daddy, I don't want a tutor, I just want to draw,' my son announced on the way to school," says Honoré, who lives in London with his wife and two children. "'Why do grown-ups always have to take over everything?' his son asked. The question stung like a belt on the backside. You know, I thought, he's right. I am trying to take over. I'm turning into one of those pushy parents you read about in the newspapers. So I started thinking about how easy it is to get carried away as a parent, and to end up hijacking your children's lives."

Now the dad is a spokesperson for the movement, traveling the world to speak on panels at universities and appear on TV shows. "Slow parenting is about bringing balance into the home," he often tells people. "Children need to strive and struggle and stretch themselves but that does not mean childhood should be a race. Slow parents give their children plenty of time and space to explore the world on their own terms. They keep the family schedule under control so that everyone has enough downtime to rest, reflect and just hang out together. They accept that bending over backwards to give children the best of everything may not always be the best policy."
We might have to thank millions of layoffs and shrunken bank accounts for this new parenting trend. Raising children right now is all about free play or neighborhood activities like going to the park and the library, wearing hand-me-downs, reading books, and spending more quality time together in a peaceful, stress-free environment. And parents who have been laid off or switched to part time are finding that they enjoy the extra time that they can spend with their kids, cook wholesome meals, and keep up with the housework.
As story in the Boston Globe puts it: "Many moms find that budget cuts that at first seem like deprivations instead have unexpected rewards."
Parents are spending less money on their kids, which includes buying less toys, and this has its up-side too. Time for free play seems to be the main advantage. When kids spend more time just hanging around the house, they get a chance to create, discover, and interact with other kids.  The lack of structure teaches kids to entertain themselves, become problem solvers, and use their imaginations.  Just don't waste these precious opportunities by plunking your kids down in front of the TV, as tempting as that might be.
Christine Carter, who studies the sociology of happiness in children as the executive director of the Greater Good Science Center at UC Berkeley, says the past decades of children spending more time in front of the TV and in piano lessons than running around freely in the backyard has actually altered their cognitive and emotional development. She says children's capacity for self-regulation–their ability to control their emotions and behavior and to resist impulses–is much worse than it was 60 years ago. "In one study, today's 5-year-olds had the self-regulation capability of a 3-year-old in the 1940s, and today's 7-year-old barely approached the level of a 5-year-old 60 years ago," she says.
So forget the frenzied schedule of extracurricular activities, play dates, and trips to the mall. You don't need to fly around to amusement parks, zoos, museums, and gymobrees. This afternoon, get out the story books and spend an hour just sitting on the couch reading. Maybe you can bake a batch of cookies and let your kids decorate them with sprinkles and chocolate chips.  Or put on their bathing suits and let them run through the sprinlers. For 15 "Good Old Fashioned Playtime" ideas, visit Real Simple. There's an abundance of ways to keep your kids busy and happy right where you are. And it's good for you and for them, too!
Image from the epoch times.com