White Picket Fences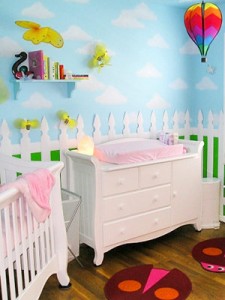 What's more charming for your outdoor or garden-themed nursery than a white picket fence? Liz decorated her daughter Schuyler's nursery with fluffy clouds, butterflies, ladybug rugs, and a colorful hot air balloon. She used pieces of vertical blinds to create the illusion of a picket fence.  She drew the design on each slat and cut them out with regular scissors. Then, she nailed the horizontal pieces to the wall in just a couple of places and used double-stick cushion tape to fasten the pickets to the horizontal rails.
Over the Top Murals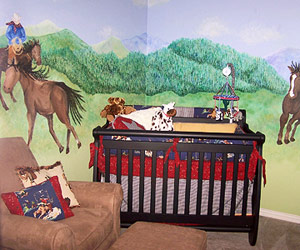 The nursery is the only room in your house that you can get away with going overboard, says Carson's mom, Kerry.  A friend painted the spectacular three-wall mural, complete with rolling green plains, cowboys on horseback, and wild stallions. "It envelops you as you walk in the room."  Make sure to map out exactly where all the furniture goes before you begin painting. You don't want to accidentally cover up any of the gorgeous images!
Vintage Romance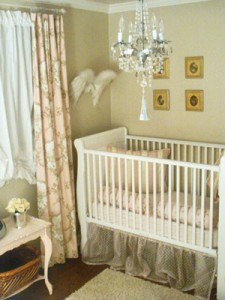 Who said a baby's room can't be elegant? Amelia's room is painted neutral tan with a soft pink ceiling. Her mom, Jennifer, accessorized with her favorite finds from antique stores, and grandma sewed the toile curtains that surround the white balloon shades.  It's perfectly pulled together with a pink-and-white polka-dot organza dust ruffle for the crib and a matching chain sleeve for the chandelier.
Timeless Stripes
Julia wanted a nursery that her son could grow into and wouldn't appear too babyish when he got older. Her desire for timeless decor prompted her to paint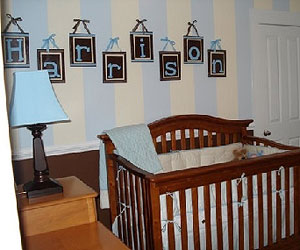 Harrison's nursery in pale blue and cream stripes, with contrasting dark brown furniture. In order to get those stripes just perfect, Julia says you need to plan it all out in advance. First, they measured from the floor to the section of the wall where we wanted to put the chair rail and drew a line in pencil. They painted below the line brown and above the line cream. Then they measured 10 inches apart and drew the lines in pencil using a vertical laser level. After taping up each section with paint tape, they painted every other stripe light blue. She suggests removed the tape before the paint dries too much, to prevent the paint from peeling. She would also carry around a paint swatch, so she could match other items, like bedding, while out shopping.
Reuse and Recycle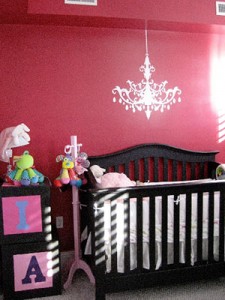 Kim and her husband wanted to stray away from the traditional, feminine room, and keep it feeling up-to-date.  They created an elegant, modern nursery for baby Maya, with the chandelier wall decal as the focal point.  The best part of all is that it doesn't have to be expensive to be beautiful, Kim says. Many of the items in the room are made up of repurposed furniture or home-made items. An old Philadelphia library desk now hold Maya's stuffed animals, an old TV stand became the changing table, and they put to use a second-hand bookcase that came from Dad's family.
Silhouettes and Painted Designs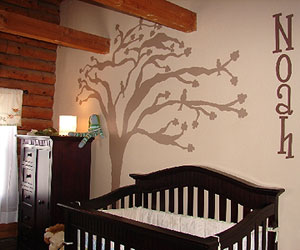 Lori and family live in a log house, and she wanted to keep the rustic feeling. Her favorite element in Noah's room is the tree, which she painted freehand, adding little birds on the branches to give it that extra touch.  You don't have to be artistic to do it too! If the thought of painting freehand intimidates you, find an image from a book or magazine and project it onto the wall.  Sketch a design, or trace an image you find on to a piece of paper, and get a transparency made at a copy shop. Use an overhead projector to display it on the wall you wish to paint, moving it farther or closer to get it the right size. Trace your design using a pencil, then paint inside the lines. You can do this by renting a projector that hooks up to your laptop.
All of the photos and decorating tips in this article are from Parents.com. Click here to see even more Real-Life Nurseries at Parents.com!