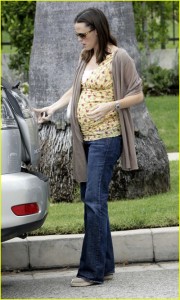 How do those pregnant celebrities always look trendy, yet totally polished? Pregnancy Fashion.com is going to share a a few of their maternity style secrets with you, from InStyle Magazine. These tips will keep you looking as hip and pulled-together as actress Jennifer Garner (in photo).

Sleek Silhouette: When dressing up, wear bottoms that rise over your belly for the smoothest lines under tops.
Splurge on basics; skim on trendy items: Forget about blowing your budget on that one funky printed tunic top like Gwen Stefani. Spend your money wisely on a great-fitting pair of jeans, some well-tailored work pants, and empire-waist tops.
Add color with fun, funky accessories: When wearing basics, make a statement with jewelry like bold necklaces or cocktail rings, which can be worn post-pregnancy.
Keep it balanced: Wear dark-wash maternity jeans with long, thin legs to balance out big tops.
Shop eBay: You can find designer maternity items at a fraction of the price through consignment shops and eBay. And, when you are no longer pregnant, you can resell them!
Budget shopping secrets: Comparison shop online for those must-have designer items to get the best price. When shopping at pricey maternity boutiques, walk past the high-dollar items at the front of the store and peruse the sale items at the back of the store. You may get lucky and find a real steal.
Top maternity fashion trends of 2008:
Maxi Dresses: With celebrities like Angelina Jolie and Nicole Richie dressing their baby bumps in long, flowing dresses, the maxi dress trend is one that caught on with both the pregnant and non-pregnant set. Pictured is actor Matthew McConaughey and his pregnant girlfriend Camila Alves wearing a long espresso-colored maxi dress.
Long skirts: Gwen Stefani was often seen wearing a long printed skirt with a bump-hugging top. This trend is both stylish and comfortable.
Maternity jeans: Jennifer Garner has been seen looking casual and stylish by pairing maternity jeans, such as 7 for all Mankind, with a cute maternity top.
Scarves: Celebrities such as Jessica Alba and Naomi Watts were often seen accessorizing their look with a colorful scarf tied around their neck.
Belt your bump: To prevent the dreaded "tent look," celebrities such as Camila Alves and Naomi Watts were seen pairing a dress or long tunic top with a belt under their bellies.