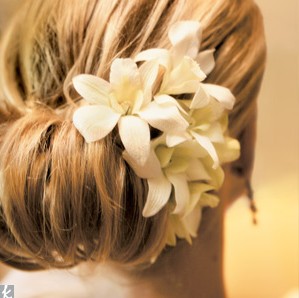 Pregnancy and spring are both seasons of new beginnings, which means it's high time to shake out your winter-weary locks and let your hair down—literally! After hibernating indoors all winter, we are ready to welcome sun-filled days that stretch long into the evening hours.  Hair experts agree that a natural, get up-and-go style is best for spring. Woman's Day's panel of experts share all the essential coloring, cutting, styling and conditioning tips and tricks for achieving the perfect spring look, and the secrets to maintaining them the whole season through.
Color & Highlights
1. Brunettes: Create dimension by framing your face with warm highlights, but avoid any color that's more than three shades from your natural hue. A dark brown base will help prevent highlights from looking streaky and dated.
2. Blondes: Maintain that carefree, beachy look by introducing soft, subtle shades—less on the golden side, more on the neutral side. Adding overly harsh or white tones could suggest that locks have been processed. If you prefer chunky highlights, add them further away from your face.
3. Red Heads: A natural red head is rare, so don't stray too far from your true hue. It's also important to keep in mind that red hair tends to lighten dramatically in the sunlight. If you're itching for an update, introduce subtle highlights to the crown of the head, as well as to the ends of your hair; this will help add dimension while maintaining the overall shade.
Cut & Style
1. Curly Hair: An experienced stylist will take into consideration each individual curl, cutting to create movement, varying lengths and strand-by-strand definition. It may be hard to find a great curly-hair stylist, so if you see someone with a cut that you love, don't be afraid to ask them who their stylist is. When styling your cut, aim for soft, romantic texture.  Skip the gel and apply a smoothing oil or lightweight moose to give each curl a polished finish. If you're using a diffuser, remember to dry curls with cold air, which helps them set. Minimize hand-contact with locks to prevent frizz; if you need to scrunch curls, use a towel.
2. Straight Hair: The most essential hair secret of all: trim regularly for neat, healthy-looking locks. If you have thin, straight locks, a short and layered cut with bluntly-finished ends will add weight and promote swing. Consider a bob, or if your face is on the rounder side, try a just-under-the-chin length. Additionally, a long side-swept bang will effortlessly frame the face, even when left unstyled. If you're blessed with thick hair, play up the layers and angles for dimension. To style, don't just brush and go. Instead, Instead, apply a volumizing product to the roots for lift—then flip, toss and blow dry hair freely.
3. Thick Hair: Adding long layers to thick hair will give it the desired tousled look without promoting frizz. If you'd rather opt for a different style, go for it… but to attain that get up-and-go look, your hair must be cut specifically for the style. The longer thick hair gets, the easier it is to handle, since the weight forces it to behave. Thick, short hair runs the risk of looking poofy. Additionally, when it's long, you can easily pull it back off your face to create a full, party-ready bun or pony tail.
Condition & Shine
1. Quick Fix: Hot oil is great for achieving an instant light-reflecting shine, but no more than once a week. Keep in mind that fuller hair can better handle constant treatment then fine hair.
2. Long term: Never underestimate the power of a protein-rich diet for strengthening and rebuilding hair. A protein-packed conditioner can work wonders, too.
3. Shampoo: For thick, curly hair, shampooing every two or three days is ideal, as it gives natural oils a chance to condition hair between washes.
Feature photo from the Knot
Visit Woman's Day for more beauty & style tips!