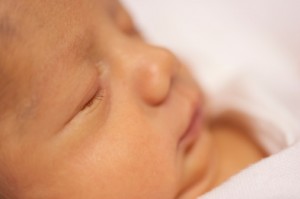 When you choose your obstetrician, you are also choosing the hospital at which you'll give birth, More 4 Kids points out. Your doctor will have admitting privileges at a certain hospital, so you have to start thinking about which hospital to deliver at before selecting your obstetrician. You may have to switch doctors in order to deliver at the hospital you want.
You can start your research by asking your current gynecologist about good hospitals. It should be less than an hour away, and easily accessible by car. It is especially beneficial if the hospital is easily accessible by the interstate system, since you will not want to experience traffic while you are in labor. If you have a high-risk pregnancy, you should make sure that your hospital has a neonatal intensive care unit. Hospitals that use the latest neonatal-care technology are also a plus, in case of complications. The comfort and privacy of the delivery rooms, infant care, visitor rules, and other services may be factors to consider.
The questions you ask should be tailored towards your needs, and should always serve the purpose of opening up the lines of communications between you and your birth team. Some of the answers might be dependent upon your practitioner, while other policies will be determined by the hospital or birth center. These policies can have serious impact on how you labor or give birth, including your postpartum stay. Here are some questions from About.com to help get you decide what you need to ask of your place of birth:
Labor & Birth
Do you offer any type of classes? Who teaches them? What is the cost? Do you have specialty classes?
Where do I go when it's time for labor? Is there a different place at night?
What paperwork needs to be completed prior to admission for labor? Is there other paperwork to be done? Can it be done prior to labor?
What will I need to bring with me when I'm in labor? Will my chart be sent over or will I need to hand carry it?
Do you have a triage system? How long does one usually stay in triage?
What types of birthing rooms are available? Can I labor, give birth and recover in one room?
What types of comfort measures do you encourage? Is there a tub or shower in the birth room? Do you have access to birth balls, music, squat bar, etc.?
What type of food or drink is allowed? Is there a kitchen area for myself or my family? Am I allowed to bring food or drink from home? Do you provide clear liquids like popsicles, broth, Jell-o®, etc.?
Are IVs required? What about a saline lock to provide access to my veins instead? Who would make this provision if it's not a standard policy?
What type of medications are available should I choose medication? What IV medications are used? Do you offer epidural anesthesia? Is there a special class to take for the epidural? Do you have anesthesiologists who only do obstetrical anesthesia? Do you have 24 hour anesthesia available on site? Can I have a pre-labor consult with the anesthesia group if I have special concerns?
Do you have visitor policies in labor? Do you have policies about siblings?
Are cameras and film equpiment allowed? Are there any parts for which we should turn it off?
What type of fetal monitoring do you offer? External? Internal? Doppler/fetoscope? What are the hospital policies on monitoring in labor?
How often do you experience an overflow of patients? What happens if all of your birthing rooms are taken?
Do you utilize students or residents in any way?
What is your hospitals induction rate? How many patients receive augementation in labor? What is your episiotomy rate? Epidural rate? Forceps/vacuum rates? Cesarean rates? VBAC rate?
Do you have doulas on staff? Do you have a listing of doulas?
To whom should I send my birth plan? Does it need to be signed by my doctor or midwife? My pediatrician?
Cesarean Birth
Can my partner stay with me for a cesarean birth? My doula?
Can we have photos of the birth?
Will I be able to watch the surgery via mirror? Could the drapes be lowered?
What is the policy about pre-operative medications? Post-operative pain relief?
Will the baby be available to me during the surgery time? In the recovery room? When can I begin nursing?
If the cesarean is planned, what is the admission procedure?
Will my partner be able to go with the baby, should s/he need to leave the room?
Postpartum
Will I have the same room postpartum that I did for labor and birth?
Are all your postpartum rooms private? Will I ever be moved from my room?
Do the rooms have showers or tubs? What about sitz baths?
Can members of my family stay over night? Is there an extra charge for this?
What pain relief options are available postpartum? Does that differ if you've had a cesarean birth? What about nursing moms?
What is the average length of stay for a vaginal birth? A cesarean birth?
Is there a policy for early discharge?
Baby Care
What is your policy on rooming in? Are there times that the baby cannot be in our room?
Do pediatricians do their visits at the bed side? When would this not be appropriate?
Do you have a lactation consultant? Is she available seven days a week? What are her hours? Does she see every nursing mom? Is she certified?
What are the policies about breastfeeding babies and bottles/pacifiers?
Are their sibling visitation policies?
Obviously, the level of care and sensitivity of hospital staff should be your first priorities. But beyond that, there are many other perks that you might want to look into. Some hospitals offer private suites (for those who are willing to pay) rather than a room that holds several women. Some private suites even offer amenities such as whirlpools and HDTV. Often, these suites also permit you to spend the entire duration of your labor and delivery in the same place, which is known as a Labor Delivery Recovery Postpartum (LDRP) room. You may also be cared for by one or two nurses who have no other patients, and so you will receive more personalized care. It is important to reserve a private room as early as possible in order to raise your chances of having it at your date of delivery.
Hospitals offering private suites also offer premium services such as:
lactation (breast-feeding) consultants
24-hour anesthesiologist care
a private nursery for keeping your infant near you after the birth
24-hour room service (new mothers can be hungry at odd hours of the day and night!)
permission for siblings to watch the birth
24-hour visitors (unless the mother or infant is in need of more medical attention)
massages that last from fifteen minutes to two hours
free parking for visitors
new-parent classes for parents to learn about infant care.
special support groups such as new mothers groups, new fathers groups, and even new siblings groups.
After you have made a list of hospitals that interest you, it is a good idea to schedule visits with them. Many hospitals offer group or individual tours for their maternity centers. During your visit, scrutinize the facilities for cleanliness, because hygiene is essential when your baby is born and is vulnerable to infection. You should arrive at your tour with a list of questions, though it is likely that many of these questions will be addressed during your tour. In addition, you should ask for a brochure or pamphlet of the hospital's policies and regulations for maternity patients, so you can brush up on them before your delivery date. During your visit, be careful not to be taken in by the luxury of the facilities—make sure first and foremost that the hospital has the resources to successfully treat your infant in case of emergencies.
For more information visit More 4 Kids and About.com: Pregnancy & Childbirth.