If you are doing some pre-baby shopping or putting together a registry, there are things you might not realize you need before the baby actually arrives. Parents.com asked real moms which baby gear got them through those first few roller-coaster months. Here are some of their top 13 new-baby lifesavers.
Boppy Feeding & Infant Support Pillow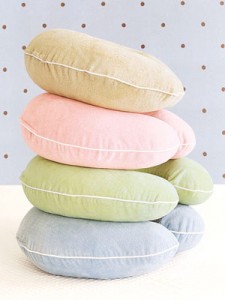 When you're spending a third of your life breastfeeding, you need to be comfortable! Hunching over to feed you baby can do a number on your back, so a good nursing pillow is something you should have. A popular choice is the horseshoe-shaped Boppy Feeding & Infant Support Pillow ($24.99). Plus, as baby grows, the pillow becomes a handy baby prop for tummy time. For added style and to make washing a cinch, you can buy super-soft, personalized Pottery Barn Kids covers ($25).
Glamourmom Nursing Bra Tank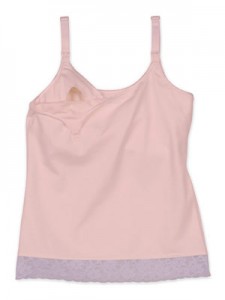 Nursing moms love Glamourmom Nursing tanks and tops ($34-$39) for many reasons. To start, it comes with a built-in nursing bra, but you totally can't tell! Another great feature is that you can surreptitiously feed the baby without exposing your postpartum tummy. The tanks come in a variety of colors and styles, including a shorter and longer version you can belt. You can wear alone or under another shirt, and it comes with a thicker stap version for the fuller figure! One happy mom says, "It was way better than a nursing bra at minimizing both the boobs and the belly."
Snoogle Total Body Pillow
This one's for the pregnant girls. Instead of tossing and turning at night as you try to position your awkward figure, this body pillow will help you stay comfortable all night long. The Snoogle's special shape was designed to support your back and belly so you can catch some zzz's.
Kangaroo Korner Adjustable Pouches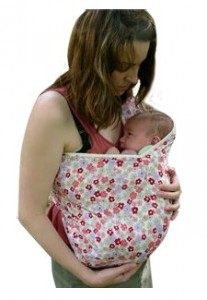 Baby slings are the cool way to tow your baby around, and it's no wonder: they free up your hands but keep baby close. Moms adore Kangaroo Korner's Adjustable Pouches, ($62) which are easy to put on and get baby in and out of (no wrapping, rings, or buckles). Plus, it's comfortable on your should and easy on the back. Choose your fabric according to the season: a cozy Polarfleece; a quick-drying, lightweight nylon athletic-knit mesh; breathable cotton; and a UV-blocking Solarveil.
Baby Bjorn Soft Bib

This molded bib helps keep peas off the floor and cuts down on your laundry, too. The Baby Bjorn Soft Bib's extra-wide pocket ($10) catches all the mess, and you can just sponge it off or pop it in the dishwasher when you're done.  It has another bonus feature: "When our baby is done with her dinner and has essentially cleared her plate, she goes back to review the contents of the bib," Melisa from Austin, Texas, says. "Lost that hunk of goat cheese? Yum! There it is again."
Diaper Dekor
The Diaper Dekor diaper pail ($29.95) is totally hands-free. You'll be quite happy not to be stuffing, twisting, pushing, or prodding of those stinky little packages. Simply step on the pedal, drop it in the disposal, and be on with your day. It also features biodegradable refills that break down faster than plastics, and the continuous liner allows you to use as much or as little as you want before taking it out to the trash.
Zutano Fleece Booties
You'll want to keep those little feet warm, but socks seem to mysteriously disappear every five minutes. Zutano's cozy cotton-fleece booties have wraparound snaps so your littl darling can't kick them off. You can get warm ones for winter and cooler cotton ones for the summer months. Zutano fleece booties cost $18 for a pair.
JJ Cole Bundle Me
Sometimes the hassle of wrestling your infant in and out of lots of layers is enough to change your mind about going out so often. But the Bundle Me ($39.95), which works with strollers and car seats, making things so much easier! You don't have to worry about jackets, blankets, mittens, booties… Just pop baby inside, the super-cozy shearling lining will keep baby toasty, and save you precious minutes. Once indoors, just zip off the top part of the blanket to keep baby from overheating.
Miracle Blanket and Snug & Tug Swaddle Blankets
Swaddle blankets recreate the warm, contained feeling of being inside the womb, which calms them down and helps them sleep better.  Babies have no control over the jerky movements of their arms and legs, so if not wrapped snugly their flailing limbs tend to jerk them out of sleep. Two recommended swaddles: the aptly named Miracle Blanket ($29.95), and the Velcro-laden Snug & Tug ($34.99) swaddle