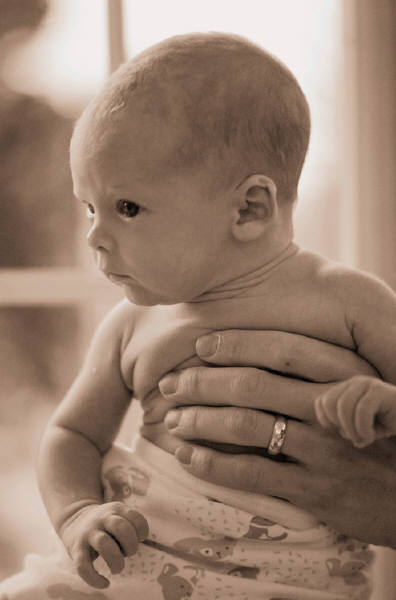 Right after the birth of you baby is a very special time! You will cradle that bundle of joy in your arms for the very first time and, with the labor behind you, bask in the amazing feeling of motherhood. Although you probably want to enjoy this time uninterrupted, the doctors and nurses may whisk your baby away to perform several important tests and procedures.
You can request a little more time to bond with your baby. But here's an overview of the care you can expect from the hospital staff, from WomensHealth.gov:
Apgar Evaluation
The Apgar test is a quick way for doctors to figure out if the baby is healthy or needs extra medical care. Apgar tests are usually done twice: one minute after birth and again five minutes after birth. Doctors and nurses measure 5 signs of the baby's condition. These are:
heart rate
breathing
activity and muscle tone
reflexes
skin color
Apgar scores range from 0 to10. A baby who scores 7 or more is considered very healthy. But a lower score doesn't always mean there is something wrong. Perfectly healthy babies often have low Apgar scores in the first minute of life.
In more than 98% of cases, the Apgar score reaches 7 after 5 minutes of life. When it does not, the baby needs medical care and close monitoring.
Eye Care
The Centers for Disease Control and Prevention (CDC) recommend that all newborns receive eye drops or ointment to prevent infections they can get during delivery. Sexually transmitted diseases (STDs) including gonorrhea and chlamydia are a main cause of newborn eye infections. These infections can cause blindness when left untreated.
Silver nitrate, erythromycin, and tetracycline are the three medicines used in newborns' eyes. These medicines can sting and/or blur the baby's vision. So you may want to postpone this treatment for a little while.
Some parents question whether this treatment is really necessary. Many women at low risk for STDs do not want their newborns to receive eye medicine. But there is no evidence to suggest that this medicine harms the baby.
It is important to note that even pregnant women who test negative for STDs may get an infection by the time of delivery. Plus, most women with gonorrhea and/or chlamydia don't know it because they have no symptoms.
Vitamin K Shot
The American Academy of Pediatrics recommends that all newborns receive a shot of vitamin K in the upper leg. Newborns usually have low levels of vitamin K in their bodies. This vitamin is needed for the blood to clot. Low levels of vitamin K can cause a rare but serious bleeding problem. Research shows that vitamin K shots prevent dangerous bleeding in newborns.
Newborns probably feel pain when the shot is given. But afterwards babies don't seem to have any discomfort. Since it may be uncomfortable for the baby, you may want to postpone this shot for a little while.
Newborn Metabolic Screening
Doctors or nurses prick your baby's heel to take a tiny sample of blood. They use this blood to test for many diseases.
All 50 states require testing for at least two disorders: phenylketonuria and congenital hypothyroidism. But many states test for up to 30 different diseases: All of these problems are impossible to spot without a blood test. And if left untreated they can cause mental retardation and even death. The March of Dimes recommends that all newborns be tested for at least 29 diseases.
Hearing Test
Many hospitals offer newborn hearing tests. Tiny earphones or microphones are used to see how the baby reacts to sounds. Newborn hearing tests can spot hearing problems early. This can help cut the risk of serious language and speech problems.
Hepatitis B Vaccine
Most hospitals now suggest that newborns get a vaccine to protect against the hepatitis B virus (HBV). HBV can cause a lifelong infection, serious liver damage and even death.
The hepatitis B vaccine is a series of three different shots. The American Academy of Pediatrics and the Centers for Disease Control (CDC) recommend that all newborns get the first shot soon after birth or before leaving the hospital. If the mother does not have hepatitis B, the first shot can wait for 2 months. The second and last shot should be given before 18 months of age.
Complete Check-up
Soon after delivery most doctors or nurses also:
Measure the newborn's weight, length, and head.
Take the baby's temperature.
Measure his breathing and heart rates
Give the baby a bath and clean the umbilical cord stump.