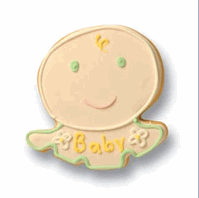 Parties are all about friends getting together and having fun… and food, of course. Particularly when you're expecting a baby or nursing, food is a major plus at any gathering. So what better Baby Shower party favors than something yummy for your guests to take home and savor? Here are some adorable, delicious options.

Baby shower favors for your sweet tooth:
Babies are Sweet Sugar Cookie Mix is a fun baby shower favor that celebrates your bun in the oven! This gourmet sugar cookie mix can be personalized with an adorable sticker to coordinate with your baby shower's scheme and color scheme. (Choose from a variety of themes and colors: duck, umbrella, go-go baby face, baby foot prints, peas in a pod, or an onesie in a variety of colors.) Get it here!
This simply adorable candy jar has a cool vintage vibe especially when filled with your favorite treat. An exceptional baby shower favor that can be personalized with your choice of labels. The great thing is that your guests can use this handy personalized candy jar in their homes and will think of you and baby each time they reach for their favorite treat! Get it here! (candy not included)
Who doesn't love Oreos? Now you can get delectable Chocolate New Baby Oreo® Cookie Favors, dipped in your choice of fine Belgian chocolates – Dark, Milk or White…or an assortment for all three! Decorated by hand with royal icing baby decorations in pretty pink or baby blue, sprinkled with a delicate shower of nonpareils to match, and individually wrapped in fancy, gusseted cellophane bags tied with a matching satin ribbon. Pretty and delicious! Get them here!
Here's an original idea: Personalized Fortune Cookie  Favors! These decorated fortune cookies will definitely be a hit. You've got a choice of 12 gourmet flavors, three decadent chocolate dips, and your choice of candy decoration. Plus, you get to specify 5 messages to be placed inside the cookies, like your favorite quotes, words of thanks, or fun facts about your baby!  You can get them here, or try New Baby Fortune Cookies which feature baby-themed fortunes and famous quotes!

Here's another classic treat: New Baby Hand Dipped Apples, a delicious mix of fresh fruit and decadent chocolate! These dipped apples are customized with pink sprinkles for a baby girl and blue for a baby boy.  Each California-grown Granny Smith apple is first hand-dipped in your choice of rich caramel or Belgian chocolate in dark, milk or white. Next, confectionery artisans add handcrafted royal icing decorations, including baby faces, bottles, bibs and booties. These candied apples are finished with candy confetti and a shower of nonpareils. Each caramel apple is individually wrapped in clear cellophane bags and tied with coordinating chiffon ribbons. Get it here!
Look at all those pretty cookies!!! Baby carriage cookies, bunny rabbit cookies, personalized duck cookies, and pretty bib-shaped iced sugar cookies… You can also get big brother and big sister cookies, baby face cookies, baby christening cookies, baby picture cookies (see below), and personalized biscotti favors. Each lovely cookie comes individually wrapped for freshness and elegance!
For the ultimate cookies cookie favor, have baby's picture printed on a cookie! These clever baby photo cookies are 100% edible and totally unforgettable (even after they've been eaten)! First, a Graham or Oreo Cookie is hand dipped in white chocolate. Next, your baby's photo is printed in 100% edible ink on a sugar base and applied to the chocolate-dipped cookie. A sprinkling of nonpareils in your choice of colors creates the charming picture frame effect. Get them here!
Drinks to go with the cookies and sweets!
Pair up your sweet favors with a personalized drink to wash them down! Send everyone home with a cool drink for summer or something warm and toasty for winter.  It's a delicious way to thank your friends and family for attending your baby shower.
For a summertime baby shower, a cool glass of refreshing lemonade is a delight.  Send your guests home with a personalized packet of lemonade to enjoy at home.
When it's cold outside, nothing warms you up like a soothing cup of steaming tea. The Baby Tea CollectionTM will hit the spot (especially when paired with the Oreo® Cookie Favors), and you can send your guests home with a personalized packet of traditional black tea.
More baby shower drink ideas: Stir up some baby shower fun with delicious Personalized Baby Shower Cosmopolitan drink mixes. For a Mexican fiesta themed baby shower, you can send your guests home with Baby Shower Margarita drink mixes. You can also choose favor packets that contain a scrumptious hot chocolate drink mix, a cup of savory coffee mix, or an irresistible mocha cappuccino drink mix.
For baby gifts and even more great favor ideas (edible and other), visit Pretty Baby Gifts!