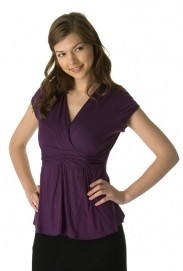 The last time I gave birth, my thoughtful mother bought me 2 nursing tops. The beauty of them was that they made it easy to nurse discreetly. But that is where the beauty ended. I hope she doesn't read this, but really, they were hideous.
Maternal Love claims to have "fashionalbe nursing wear for fashionista mums," and I was quite happy to see that their things really are cute!!  They all have secret openings or double panels that make nursing discreetly a pleasure. And many of them have a loose, babydoll fit which make them easy to wear, even after just giving birth (you know it will take some time to loose that belly!).
So if you are looking for pretty, stylish nursing tops (they range in price from $48-$63) I would highly reccomend Maternal Love.